The theme of the 2004 Durham Literature Festival was celebration - the Festival's 15th anniversary deserved a party. And a party is when you invite friends old and new to help you to have a good time! So it was particularly apt that Arts & Business decided that the Literature Festival's relationship with Cornwell Internet should be celebrated with a New Partners investment. This funded the commissioning of four new art works to promote both Cornwell Internet and the Festival.
Throughout the Festival season, the results of those commissions made their way onto this website. Artists whose work represents all the diversity included in the term "literature" agreed to create something new for the site. They reacted, each in their own way, to the themes of anniversaries, celebration and collaboration which shaped the 2004 Festival programme. And they had some very exciting ideas about using the internet as a literary medium.
---
Big Frocks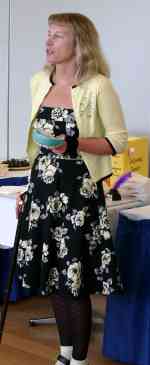 Valerie Laws is an established poet; at the 2003 Literature Festival she read from her collection Moonbathing. She is perhaps best known for her Quantum Sheep project, which involved writing words of haiku on the backs of living sheep, using principles of quantum mechanics (randomness, importance of observer, duality) and coloured aerosol dyes.
Her interest in combining science and mathematics with poetry made her an ideal contributor to the project, but it was a chance conversation which revealed that she and Festival organiser Alison Lister shared a passion for "big frocks" - serious party wear. So we suggested that she might like to approach the Festival's theme of parties and celebration from this angle. Her response was not only a stunning poem, but also a challenge to Cornwell Internet: a set of detailed instructions on how the words should be displayed on the internet.
To judge whether Cornwell Internet were equal to the task, follow the link to their presentation of Big Frocks. If you do not have a fast connection, you may have to allow time for the images to download. The presentation requires Javascript; if your browser does not support this, you can simply read the text of the poem.
---
Festival patron Chaz Brenchley is a master of the short story form, and an excellent cook. He responded to our challenge with an unexpected interpretation of the Festival's themes - and he expressed it in an experimental format which was particularly appropriate to the commission. Absent Friends recounts a dinner party, at which three old friends mark a fifteenth anniversary. It is a short story, but also a hyperfiction, designed to be read on the web, and making use of the internet's ability to link from one passage to another. It offers the viewpoint of each of the participants, and must be read by clicking on the links around the table, course after course!
---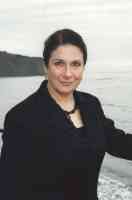 At Durham's 2003 Literature Festival, Gail-Nina Anderson chaired an extremely successful session on horror fiction, which she succeeded in making entertaining to fans of the horror genre while explaining to those who don't enjoy being horrified just what the attraction is. She opened the proceedings by listing the subject matter of horror in a poem, which we enjoyed so much that we asked her permission to reproduce it on the Festival website.
Gail-Nina is well known as a lecturer an cultural historian. Her expertise runs from Buffy the Vampire Slayer to Egyptian mummies, via Dante Gabriel Rossetti. So it would be perverse to claim her as a LitFest discovery. She has, however, been working on developing her poetic skills over the past year, and we take some pride in presenting her contribution to the commissioning project, a sequence of three expanded sonnets (one line longer than the conventional sonnet, which makes them an entirely appropriate fifteen lines long) warning that there are dangers in looking back on anniversaries!
---
Stop Press
Our final commission went to Bryan Talbot, internationally acclaimed comics creator, and winner of some of the genres most prestigious awards. Bryan has worked with the best authors, and drawn the most-loved characters, in comics, including Judge Dredd and Neil Gaiman's Sandman. He also writes his own material, with results which take comics far beyond their usual boundaries.
Bryan's talk at the 2002 Literature Festival used his book One Bad Rat to demonstrate the skill and thought that he puts into telling a deep and subtle story in pictures as well as words; he is currently working on Alice in Sunderland, an astonishing blend of autobiography, literary criticism and praise for his adopted home, the city of Sunderland.
He has given the Festival a wonderful birthday present, one it can share with all the booklovers who attend the Festival: our very own bookplate.
---
This page, and those linked from it, was originally part of the Durham Literature Festival web site; since its removal from that site, it has been transferred to the site of Cornwell Internet.