Bryan Talbot
Cornwell Internet was proud to be a sponsor of the Durham Literature Festival 2002. This year the event we sponsored was a talk by the British comic book artist, author and all round comics maestro Bryan Talbot. The event was held on Sunday 7 July, in The Gala Cinema, Millennium Place, Durham.
Bryan Talbot is one of the comics world's most respected artists and authors. Twenty years ago, he both wrote and drew the groundbreaking The Adventures of Luther Arkwright. It became a classic, and in 2001 he published the sequel, Heart of Empire.
As well as drawing material he has written himself, he has worked with the best authors, and drawn the most-loved characters, in comics, including Judge Dredd and Neil Gaiman's Sandman.
THE TALE OF ONE BAD RAT, which Bryan both wrote and illustrated, is not what everyone expects a comic to be. It contains no superheros whatsoever. Yet Bryan says:

This has been the most worthwhile book that I have been involved with and the best comic work that I've ever done, not to mention the hardest work.

The comics world agreed: The Tale of One Bad Rat won, among many others, an Eisner award, two UK Comic Art awards, a Comic Guild Creators award and the US Comic Buyer's Guide award.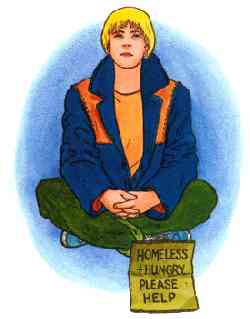 The Tale of One Bad Rat is the story of Helen Potter, a homeless young woman we first meet begging in a London Tube station. As the story develops we piece together that she is a victim of child sex abuse who, like so many victims, blames herself. Hitchhiking north to the Lake District and Beatrix Potter's Hill Top, she also takes a journey towards recovery.
Such a summary cannot do justice to the book itself. There is much more on the highly recommended One Bad Rat pages within the official Bryan Talbot website, from which both illustrations used on this page have been drawn (images used with the permission of the author).
Cornwell Internet was delighted to help bring Bryan Talbot to the Literature Festival. We have a long-term interest in comics as a narrative medium - visit Jean's personal web site, The Shadow Gallery to find out more.
---
Illustrations are Copyright © 1999 Bryan Talbot.