You don't have to be a collector of leather-bound folios to appreciate the use of a bookplate; anyone who has ever written their name in a well-thumbed paperback before lending it to a friend will get the idea! Books bought at the Literature Festival, often signed by the author, are particularly precious.
Festival Patron Anne Fine's My Home Library project, launched when she was Children's Laureate, encouraged children to print out specially designed bookplates, and use them to mark their collection of books as truly their own.
Inspired by this, the Durham Literature Festival and Cornwell Internet have commissioned award-winning comics artist Bryan Talbot to design a bookplate for visitors to this year's Literature Festival to print out and glue into their books. We are delighted with Bryan's image, which places books at the very heart of Durham!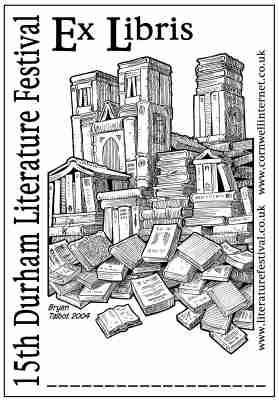 This will open a pdf file.
Warning: This is a large file. If you do not already have a pdf reader, you can download Adobe Reader here.
This is a smaller file than the pdf, but the quality is less strictly controlled.
Learn more about bookplates from The Bookplate Society.
---
This page was originally part of the Durham Literature Festival web site; since its removal from that site, it has been transferred to the site of Cornwell Internet.