Cornwell Internet is just back from a week in Brittany, where we enjoyed ourselves greatly walking around small towns and across small islands, discovering new places and revisiting places we had been before (and discovering new aspects of them). There was also a fair amount of eating and drinking and catching up on some reading, and altogether a very pleasant break from work.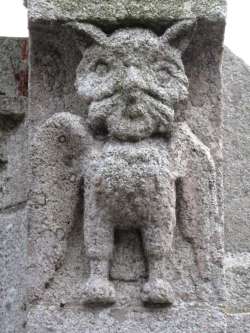 But as I have said before, there is always something there to remind us…
Roscoff is one of the ports used by Brittany ferries, and although we have been there in the past, I'm sure it was for no longer than it takes to get off the morning ferry and away. This time we had a more leisurely look round, and were charmed by the old town. Several of the old houses in the central square are decorated with carvings, as is the church – some of them look old, some very new, and with some it's impossible to tell! And opposite the church, on a gatepost, is this strange figure. The stumpy legs and round tummy make it look like a toddler in fancy dress, but it could be something more frightening…
I knew that one of the first jobs I would have to do on my return home was update Karen Maitland's web site, to reflect the publication in the US of her new novel, The Owl Killers. And I knew that one of the inspirations for The Owl Killers was her discovery of a medieval bogeyman known as the Owlman "who had the head and wings of an owl, but the body and legs of a man" (as she describes him in her guest blog on the Random House web site). And here to remind me was the Owlman himself!
Back home, and ready to pass my curious little story on to Karen, only to discover a e-mail from her: she had a curious little story for me, too. It seems that the US edition of The Owl Killers has sold at least one copy, and to a completely unexpected reader – former President Bill Clinton! (Read the full story).