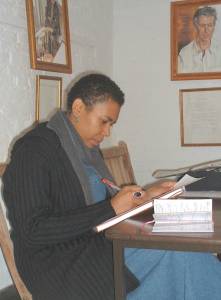 Sheree Mack's three-day residency at the Fowler's Yard Artists' Studios set her in the company of a galaxy of poets: the studio also housed an exhibition called Poetraits, portraits of contemporary poets by Graham Kershaw. The picture (left) shows Sheree with Hugo Williams; also represented were U. A. Fanthorpe and Esh Winning's own Gillian Allnutt.
Sheree took her inspiration from Natalie Goldberg. She declared that " All that's needed is a pile of blank paper, some fast-writing pens, a table, a chair, and a sign saying:
Poems on Demand
and she would produce poems to order: you provide the subject and Sheree Mack fills the page with words for you to take away. Would-be poets were also invited to drop in for a chat and some help with their own poetry. Cornwell Internet challenged Sheree to write a poem starting from the word WEB. And in the time it took us to look round the exhibition, this is what she wrote for us:
"Web"
ensnared
no use in struggling
you're caught
held in the spell
you wiggle and moan
but to no use
as you only become
more entrapped
in the web
in the cyber
wires of silver
threads - carrying
communication
carrying sticky gossip
from one corner of the
world to the next.

S.A. Mack
She told us:

"A man rang me up in anticipation for my spontaneous poetry booth with a request for a poem on a 'red car'. This is what I produced. I don't usually like it to rhyme but he insisted:
Red car,
on my birthday night
red car is my delight
red car
on my birthday morning
red car in traffic crawling
red car
for one more year
red car veer
across the road and into a lamp post!"

S.A. Mack
This page was originally part of the Durham Literature Festival web site; since its removal from that site, it has been transferred to the site of Cornwell Internet.
Poems © Sheree Mack 2004
Web image © Andrew Morley 2004
Reproduced here by permission of Sheree Mack and Andrew Morley, who assert their moral right to be identified as the authors of this work.